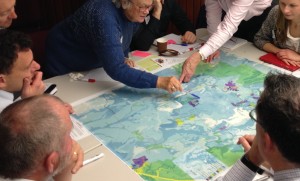 There are a range of peri-urban stakeholders with competing – and sometimes conflicting interests. Creating food-resilient cities means addressing these stakeholder priorities, pressures and concerns.
Stakeholder perspectives:

Farmers need viable commercial conditions, a fair price for commodities, land security and a social license to operate.
Residents need access to affordable and safe housing, access to jobs and social services.
Planners need to make informed decisions to balance competing land uses while considering population growth, transport, and other needs in the long term.
Food consumers need access to nutritious, diverse, safe, traceable and affordable food.
Land, water and air need to be protected from both urban and agricultural pollution.
Waste and resource managers need to cost-effectively collect, transport and process the city's water and organic waste for new markets, such as fertilisers or energy.